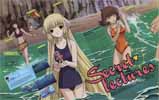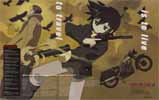 Two scans of pages from random articles, the first featuring Chobits and the second Kino's Journey/Kino no Tabi. There is a light "strip" of sorts on the Kino one. Alas, but HDS was unable to completely heal it, merely make it sort-of blend in.







The postcards from this issue featured no single series. Instead, they were of the so-dubbed "Girls of Newtype." For those who visitors may not recognize, the name and series of origin of each is featured in each image.

This issue's poster, featuring RahXephon, was a rather bothersome chore to stitch together nicely.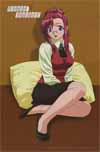 The centerfold, hailing from Please Teacher, and its various components. The larger the image, dimension-wise, the larger it was physically on the centerfold.