A lovely ride in the steampunk genre, Last Exile hails from the studios of GONZO and has become one of my favorite series. Less talk, more scans.
---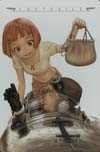 One side of the art box for the original complete boxed set (The only side worth scanning).




A few of the covers to the original DVDs are featured here. They look a little funky due to holographic-like surfaces.




A nice little set of post cards that came with one of the later volumes of the series. The back is the same for all of them.












And here is the second, much larger set of postcards, done in character designer
Range Murata's
original style. They came bundled with one of the middle volumes of the series.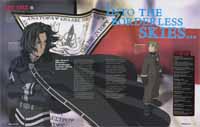 Found in the August 2003 issue of Newtype USA, this scan was.
Grab the
Last Exile
DVDs at
Robert's Anime Corner Store
!