Space-alien/human teacher. Teacher becomes married to you. She happens to also be your homeroom teacher. What now?
Please Teacher!
/
Onegai Teacher
, that's what.
---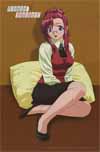 The centerfold of June 2003's Newtype USA, here in all its glory.

The poster of May 2003's Newtype USA featured Please Teacher! as well. Newtype USA had a thing for the series.
Grab the
Please Teacher!/Onegai Teacher
DVDs at
Robert's Anime Corner Store
!